Självporträtt

I Siri Tolanders arbete står hem och hem- lösheten i fokus. Genom att skapa en i hög grad personlig inredning i den lägenhet hon bor i på korttidskontrakt, skapar hon ett självporträtt och formar platsen efter sina behov. Det är hennes kropps specifika mått och krav som är utgångspunkten för systemet. En form för att ta plats och manifestera sitt eget mellanrum.

Self-portrait

Siri Tolander's work focuses on homes and homelessness. By furnishing the apartment that she is renting on a short-term contract in a highly personal manner, she creates a self-portrait and adapts the location to her own needs. It is the specific dimensions and demands that are the point of departure for the system. A form for occupying a site and manifesting one's own interspace.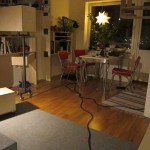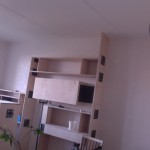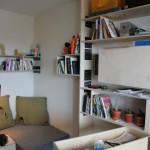 Installation at Trondheimsgatan 38
Siri Tolander (född 1984) är ett svenskt konstnär som arbetar med skulpturala installationer i eller i förhållande till det offentliga rummet. Under 2010 tog hon en MFA från HDK Steneby och har sedan dess arbetat och bott i på ett antal olika ställen. För närvarande fokuserar hon i sin praktik på mångfald och stadens potential och hur det offentliga och privata är sammanflätade.
Siri Tolander (born 1984) is a Swedish artist working with sculptural installations in or in relation to public space. In 2010 she graduated with a MFA from HDK Steneby and has since then worked and lived in a
number of different places. Currently her practice has focused on the diversity and potential of the city and how the public and private is intertwined.